For example...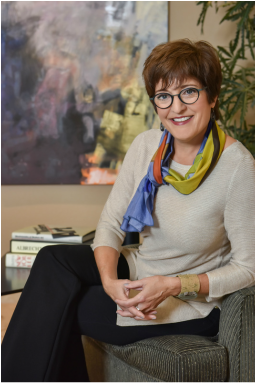 About Karen...
When I was a kid, I loved to dance. Sometimes, I'd ride the bus down Third Avenue to the Martha Graham School of Dance, housed in a musty townhouse on 53rd Street. One morning right before class started, the teacher clapped her hands twice and announced "Martha will be observing us today." Well, she didn't just observe. She sat on a folding chair in the front of the room and barked directives. I, uncharacteristically, was in the front row and my idol was one foot away! The next day, the ache in my muscles bore evidence to how hard I'd worked.
So, it was natural that I started my career doing publicity for choreographers like Paul Taylor, Merce Cunningham, Pilobolus, Trisha Brown, Meredith Monk, Bill T. Jones, etc. and… Martha Graham. As a meat-and-potatoes publicist for non-profit dance, theater and music companies in New York City, my first mentor, Ellen Jacobs, taught me how to write and front for our clients. It wasn't easy to sell a story about the same clients to
The New York Times
year after year but we did -- by crafting compelling messages and being (very) persistent.
After that solid grounding in fundamentals, I spent 20+ years maturing, working with top public relations firms like Burson-Marsteller, Ketchum and Cohn & Wolfe. My experience encompasses Fortune 100s, technology, construction, entertainment, healthcare, sales and marketing, financial, food, construction, pharmaceutical, academia, sports, fashion, travel, beauty, consumer goods, and more. Following, in alphabetical order, are some of the more recognizable brands I've worked with during my career: Altria, American Heart Association, Bulova, Club Med, Coty, Chase, Dole, Dow, Fuji, Gillette, Hasbro, Hershey, Nokia, Marriott, Movado, PGA, and Universal Studios.
I serve on the Executive Board of
Ellevate Phoenix
. Ellevate's mission is "to help women advance in the workplace, both for themselves and the greater good. We strive to change the culture of business from the inside out - by investing in women."
---